WE BELIEVE THAT
Every woman is unique & individual
We are an Australian Online Boutique that seeks to empower and inspire women with their clothing choices and UNIQUE options. At Diana's Closet we believe that every woman is unique and individual.
Founded in 2018, Diana's Closet is one of the fastest growing online boutiques in Australia.
Let's Explore
Ok I'll admit it
I'm one of this ladies who likes to keep my lipstick on…
I always strive to look my best, love good quality clothes and like to look very, very exclusive at any party or event. I thrive from all the comments I get:
"Wow! You look amazing!"
"Where did you get that dress, it's gorgeous!"
So you can imagine how unhappy I was turning up for an all white boat party and there she was looking absolutely stunning, right in the middle of the dance floor… She was wearing the absolute exact same dress as I was, and she wore it better. I was happy for her honestly… but I couldn't stand being the inferior twin.
This wasn't the first time it had happened.
It had happened several times!
All I wanted was to look UNIQUE, look EXCLUSIVE and Look INDIVIDUAL.
My dress-p wasn't going too well. I was disappointed as I couldn't really find a place that spoke my language. I decided to curate and design those special unique, individual, exclusive pieces and share them with other like minded ladies.
And that's how Dianas closet was born…
A place for ladies like me
To find unique, exclusive and individual clothing.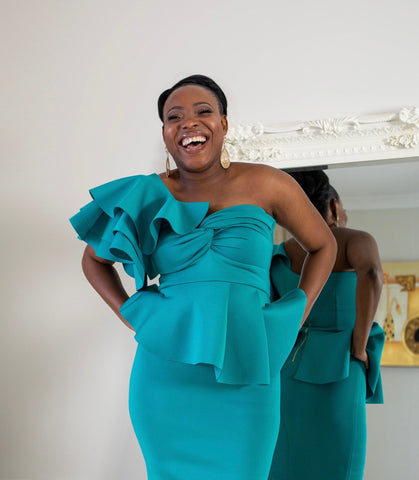 I'm the CEO of Diana's closet
Hi, I'm Diana
Diana's Closet is the brainchild of my passion for providing unique and personalised clothing to all the trendy moms and women over 30's.
As for a little about me, I am a mother of three gorgeous children and a wife to an amazing guy. I was born in Southern Africa .
The knack for entrepreneurship hit me early, and now that I think of it, I was born with it. I have enjoyed selling things as far back as my memory goes, and to your surprise, I was happily selling lollies door to door by the age of 9.
Diana's Closet was founded with a unique perspective of providing a clothing line to women, which brings great joy, confidence, and at par customer services. I was passionate enough to breathe life into my dream, and I intend to build a tribe of unique women who are our esteemed customers and allow them to cherish each shopping experience.
With Diana's Closet, every woman will be confident and happy in her own skin without losing the uniqueness of their aura.
My team and I are here to help you. Please do not hesitate to contact us.
You can contact me directly on: